According to CompTIA, a leading Association in technology, Phishing and Ransomware attacks have increased by just over 40% at the end of 2022. With cyber-attacks on the rise, it is more important now than it ever has been to ensure that your business is as protected as possible from cyber threats. Ransomware and trade secret leaks can cause significant financial detriment to your business, for this reason endpoint security is worthwhile to have protecting your devices.
There are many people that argue that Windows Defender is an apt solution to protect users. Though Microsoft does offer an integrated anti-virus solution with all Windows operating systems it is not by any means an apt solution to protect businesses against hacks and intrusions. Endpoint security solutions still far outperform free anti-virus solutions and Windows Defender.
We prefer to use an endpoint security solution that is heavily invested in user security as a primary line of business rather than one of many products. Our top pick for business endpoint security is ESET Protect. ESET is a great company heavily invested in the security of its users. The ESET team is fully focused on developing security solutions for both personal and business use cases. This means that they dedicate all of their time to help ensure that its users are as secure as possible while remaining online.
Some of the powerful features all versions of ESET Protect include:
Host Firewall
Host Intrusion Prevention
Ransomware Protection
Adware Protection
Botnet Protection
Spam Protection
Virus Protection
Web-Filtering
An On-Premise or Cloud Management Console
Some of the additional features ESET Protect Complete, Enterprise and Total include are:
Advanced Threat Defense
Cloud Sandbox
Mail Security
Cloud App Protection
Endpoint Detection and Response
Vulnerability and Patch Management
Here is a comparison of the various ESET Protect versions and what is included with each.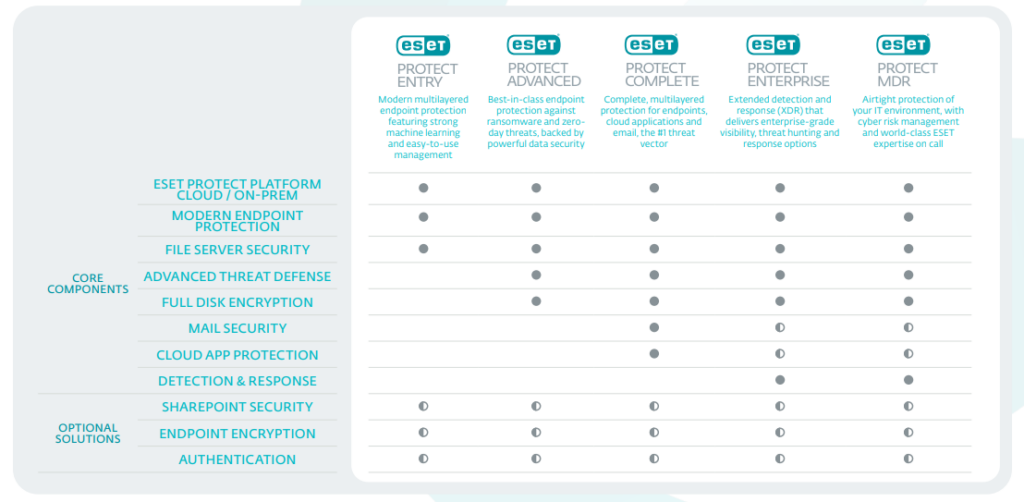 The features listed above are extremely powerful components that are not included with Windows or MacOS out of the box, for this reason, businesses should consider using a security product instead of free AVs like MalwareBytes and Windows Defender.
For more information on ESET Protect there is a really nice page on their website with a great depiction illustrating all of their products, click here to see the page.
If you have any questions or concerns about your business and its security posture, schedule a free consultation with our team now by clicking below.